I just recently finished a petswap with an extremely talented lady on Craftster. Her username is ericav. If you have a chance you should really check out her artwork. It is absolutely amazing. She's a pet portrait artist. I can't imagine how I got to be so lucky as to get her as my swap partner. Today I received the portrait in the mail.. and I'm still just stunned by how beautiful it is. See for yourselves.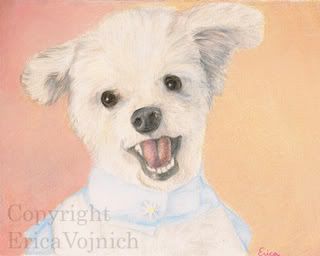 Thank you so much, Erica!!!!
I will truly treasure this all of my life!