Here's a pillow that I made quite a while back.. almost a year ago, actually. It took me a couple of weeks to do between work and school. I used all
Sublime Stitching
patterns except for the lettering which I just used a font from Microsoft word for. I really love how it turned out. I wanted something cute for my new apartment which I've been in for 6 months or so now. It sets on my couch for everyone to see. I think that it's a great conversation piece.
Here are some more detailed pics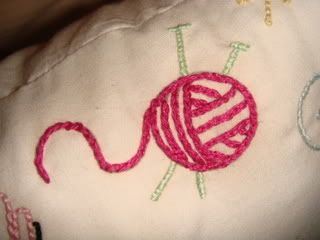 "Not Quite Vintage" just seemed like the perfect title for my style, what I like.. it just seemed like Me! I like vintage with a twist!